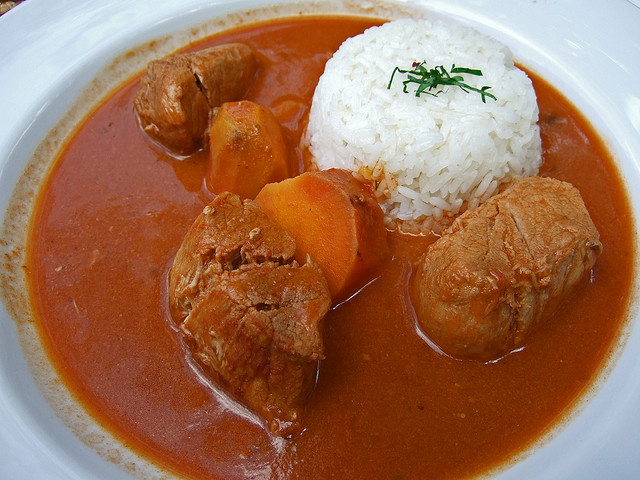 We tested this recipe out and it was delicious. A friend of my sisters submitted it. If you try it out please leave a comment about how it was.

Marinade:

2 lbs of pork sirloin, cubed
3 cloves of garlic, chopped
3/4 cup of dark beer, chica de jora or vinegar
1/4 cup of chili powder
1 tsp of paprika
1 tsp of oregano
1 tsp of cumin powder
2 bay leaves
salt & pepper to taste
Adobo:

1 small red onion, chopped
2 cloves of garlic, chopped
1 large peeled & seeded tomato, chopped finely
1/2 cup of fresh green peas
salt & pepper to taste
Instructions:
Mix the pork with all the ingredients for the marinade in a large bowl
and leave refrigerated overnight. Remove meat and reserve marinade
liquid.
Coat Dutch oven with cooking spray over medium-high heat and brown the
meat in batches until done. Remove and keep warm. Add onion and cook
until soft, 5-7 minutes. Add garlic and cook until fragrant, about 1
minute. Add tomato and half the marinade liquid and stir. When hot add
the pork and cover tightly cook about 30 minutes. Add peas and
continue cooking until meat and vegetables are tender, about 15
minutes more. Serve with rice and sweet potatoes. Serves 8.
Thank you Susana, Adapted from Kleph's Kitchen.
Photo Provided By: MMM-YOSO